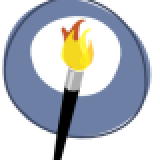 A friend invited me to HUMBUG again and they had a talk on Libre Graphics.
Andy Fitzsimon delivered a postmortem of the Libre Graphics Meeting that was held on 17-19 March, 2006 in Lyon, France. Topics covered included Inkscape, The Gimp and Scribus.
He gave an awesome presentation on Libre Graphics, he was running the XGL desktop and demonstrating how the different applications integrate with the desktop. It was impressive, he was dragging and dropping all kinds of things between the different applications and really showing off the best of free software graphics applications.
I'd used most of those applications for doing basic things, I'm not sure if Andy is a professional graphic artist or programmer but he had mad skills in using those applications, the stand outs for me were inkscape and xara.
" Inkscape is a vector drawing program with capabilities similar to Illustrator, Freehand, and CorelDraw. It uses the W3C standard SVG as its native document format."
"What makes Xara stand-out from the crowd is the rendering performance (by far the fastest drawing program available, on any platform), it's advanced rendering techniques that enable incredibly realistic drawings, that look like those produced by no other drawing software, it's ease of use and slick, clutter-free user interface."
Libre Graphics Meeting Homepage
Looking forward to spending more time using them. You can download them online.