From [[M-learning]] on Wikipedia:
'M-learning' is the follow up of E-learning which for its part originates from D-learning (distance education). M-learning is the delivery of learning to students who are not keeping a fixed location or through the use of mobile or portable technology.

Definition

M-learning is the term given to the delivery of training by means of mobile devices such as Mobile Phones, PDAs and digital audio players, as well as digital cameras and voice recorders, pen scanners etc. M-learners are seeking lessons in small, manageable formats that they can undertake when it suits them.

The Quoted text above is available under the terms of the GNU Free Documentation License
So I looked at some options for WordPress. WP-MMS, WordPress Mobile Edition and WordPress PDA plugin, they might not meet everyones needs but there's also blogging software designed for mobile bloggers. You can get the code for easymoblog and check it out, I haven't found an online demo yet, there's Comoblog which was developed using easymoblog, it has some nice modules and heres Mobilog and a demo, if you look around there's other [[Free_software]] moblog projects, that's just a few examples, lets get back to WordPress, by default WordPress has a feature that allows you to send posts by email, that seems to be most common way people use moblogging they take a photo, write a brief description or story then post it via email and the attachment is displayed above or below the text. There's also Postie which allows for more customization mostly to do with attachments.
I havent had a real good look at Blogger and Flickr but apparently you can use them for moblogging so there's also the option to post to Flickr and display the output on WordPress.
WP-MMS is a Plug-in which allows MMS messages from your cell-phone to be posted directly into your WordPress Blog but has an interesting disclaimer that I have to spend more time trying to understand.
I dont own a PDA or browse the web with my mobile phone so please if you have a mobile phone or PDA visit my site and tell me what you see, a screenshot or photo would be really nice. Nothing comes close to OLPC for mlearning 🙂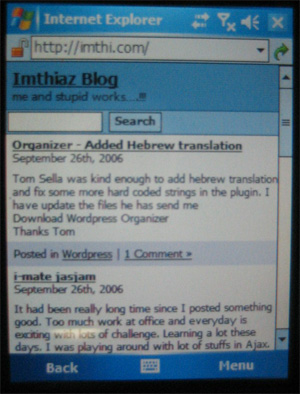 I hope Imthiaz doesn't mind me using this image, click on it to visit his site.
I'll have to do a mini-review of how I use Mediawiki sometime soon, you can sign up for an account now so check that out.