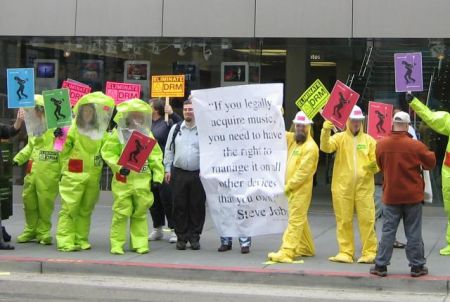 Newsforge has the story FSF launches anti-DRM campaign outside WinHEC 2006
The Free Software Foundation (FSF) launched its anti-Digital Rights Management (DRM) campaign in Seattle this morning. When attendees of the Windows Hardware Engineering Conference (WinHEC) 2006 arrived at the Washington State Convention and Trade Center to hear a keynote address by Bill Gates, a small group of FSF members and their local allies were waiting to greet them, dressed in yellow hazmat suits and handing out pamphlets explaining that Microsoft products are — in the words of the key slogan for the campaign — "defective by design" because of the DRM technologies included in them.
The FSF has created the defectivebydesign.org Web site.