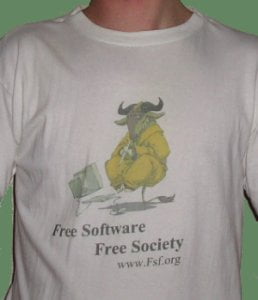 In-between looking for work, my volunteer work and moving house I'm not sure how often I'll be online over the coming weeks. I might use the chance to unplug for a while, I'm not sure about my plans yet so if you want to volunteer to keep the blog moving along then please do but be quick
That shirt looks so old and faded. Here's a pic of my mate Mike, you probably have to visit the blog and check out the shoutbox to see why its funny. HAHA cop that Mike. The best things in life are GNU.
Take care everyone. Happy Learning.