Yesterday was both Invasion Day and Australia Day.
What does this mean? Some say its all about white guys that BBQ cows and drink beer all day in the sun with their mates while others call it the celebration of a day when representatives of the British Government and Monarchy claiming the entire continent of Australia as their own.
I didn't have much on so I googled "Australia Day Brisbane" and saw that there was a raising of the flag ceremony at South Bank 11am so I grabbed my camera and off I went.
From Flag Raising Ceremony Australia Day 2010 | ourbrisbane.com :
This ceremony will have all of Brisbane looking skyward, with a spectacularly loud flyover of the F-111 jet, matched with a 21 gun salute.

From 11am see the Australian Defence Force Triservice Honour Guard and hear the Royal Australian Artillery Band – Brisbane playing. Be there for the raising of the Australian, Queensland, Aboriginal and Torres Strait Islander flags.
It was all very formal and you had to be there to hear all the speakers.
As the flags were going up the invasion day protesters came over the Victoria bridge in the distance. It was as if the confusion in my head was being played out visually in front of my eyes. I've learnt many things about indigenous Australian culture before and met some of the local Murri people. Some people have said to me oh yeah the people from the Murry river or think Im mis-pronouncing the word Maori but in any case make sure to read the Murri people Wikipedia article if you dont know what Murri people means.
Bored of being stuck behind a barrier while some media and privileged people prance around in front of me, I decided to join this march and see what it was all about.
In a way I felt like my innocence/ignorance of who a lot of these people are helped have a neutral point of view. In terms of education its a fail but usually people on the internet help me fill in the gaps, that hasnt happened with this story yet, Im not sure why. For example I described this photo as "Important Lady finishes her talk, canons in background at Raising of the flag ceremony. Australia Day" and this photo as "Powerful speaker man, Indigenous Australian protesters marching pt4″. I would say that you should have heard some of the strong things they were saying/chanting but I can show you. I made this video that you can watch on youtube. You can also watch it below.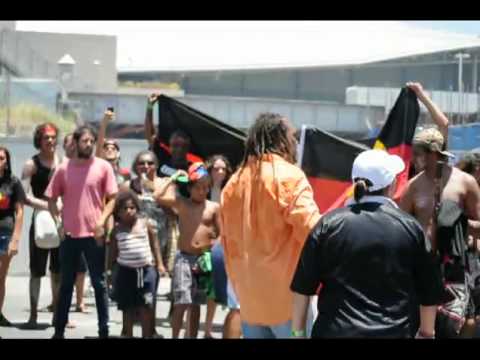 Its a shame I was so slow with my camera, at 4:13 you see them dancing, behind me were roughly 15 police, some on motorbikes and some standing there in a way blocking entry to South Bank, just before that he was making more strong statements then in my memory he says "Corroboree!!" and the guys break into music and dance, I thought that was amazing. The march finished at Musgrave park where a rage against racism concert was held.
Its a confusing issue to me, you have many non-indigenous people supporting invasion day protests and you have many indigenous and Torres Strait Islander people celebrating Australia day. I also think many individuals are just happy to have the day off work to relax and enjoy a day with friends and family. I hope all of us can come together and celebrate life, I don't know the answer but I hope we can have a holiday for this purpose maybe something like independence day.